The UK Government, the mainstream media and Police Scotland are proudly promoting the fact that COP26 will be one of the biggest police operations ever to take place in the UK. If the thought of 10,000 police on the streets of Glasgow, many carrying weapons, isn't in itself deeply worrying, then the potential consequences for children and young people should cause concern.
The policing of COP26 poses two threats to the well being of children and young people. On one level, the withdrawal and suspension of almost all essential services relating to 'justice' and 'support' because of the redeployment of police and other legal and welfare services, will place children and young people at greater risk of harm. On another level, the Children's Commissioner and indeed the Law Society of Scotland, have expressed fears that the massive policing operation may result in the inability of young people to exercise their human right to protest in matters that are perhaps more important to them than to any other group.
Dereliction of Duty
The Criminal Legal System
All sheriff and jury trials have been suspended in the city for the entire duration of COP26. Glasgow Sheriff Court, the busiest of its kind in Europe, is already creaking at the seams and unable to cope with the current backlog of outstanding cases. It is estimated that the back log of criminal cases in Glasgow could take three years to clear, an optimistic estimate according to those who work in the courts. If the criminal legal system in Glasgow is already unable to cope with the massive backlog of cases, what lies ahead when many more arrests are made as part of the UK government's relentless programme of criminalising protest.
Indeed, the Scottish Courts and Tribunal Service have announced that they will be running weekend courts in order to deal with the volume of protesters arrested at COP26.
"In response to the anticipated additional need for custody court provision: additional weekend custody courts are scheduled to sit at:
Glasgow on 30 and 31 October, 6, 7, 13 and 14 November
Aberdeen on 30 October, 6 and 13 November
Edinburgh on 30 October, 6 and 13 November
Paisley on 6 and 13 November
Hamilton on 6 and 13 November
Falkirk on 6 and 13 November."
Children's Hearings
The Scottish Children's Reporter Administration have been told to close their Glasgow office for two weeks during COP26. Despite already facing serious Covid related delays regarding cases that require police witnesses at court, further delays are expected and a large number of children's hearings are now set to be postponed.
This has serious implications for the welfare of Glasgow's most vulnerable children. Firstly, families awaiting a court outcome that could have lifechanging repercussions, are left with uncertainty and anxiety, particularly if they are due to have a child either removed or placed back in their care. As the saying goes, 'justice delayed is justice denied'. Secondly, children who need interventions to prevent risk of exposure to harsher compulsory measures will be placed at much greater risk as a direct result of the postponement and/or cancellation of hearings. All that can reasonably be expected from the delays to these services is more harm and more trauma for children and families.
All the while the Children's Reporters have been asked to work weekends as the extra court sessions undertake the process of charging and criminalising young people at a rate that, although still unknown, could, going by the level of police preparations, be significant. To put this into context, preventative measures aimed at harm reduction will be replaced by operational procedures that criminalise young people exercising their right to protest.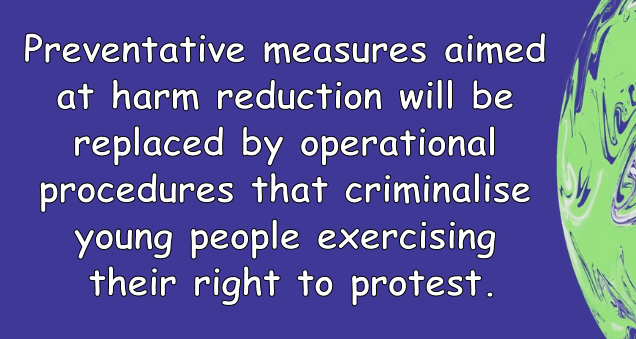 Social Work Services
A harsh reality that emerged from the pandemic is the fact that a great deal of welfare and support services were almost entirely suspended while the policing, disciplinary and punishment institutions operated at full capacity.
This was the case with a number of vital support services across Scotland, as many essential services withdrew from active participation in public life. As a result of the 'working from home' policy adopted nationally by social workers, not only were children placed at greater risk of harm, statutory duties were left unimplemented.
Having just restarted home visits and office-based work after almost 18 months of working at home, the further suspension of services will be detrimental to vulnerable groups who have already been failed by services 'designed', at least in name, to provide support and care at times of crisis. The prospect of social workers being tied up in the processing and criminalisation of young people and having to deal with a burgeoning new caseload emerging from the policing of protests at COP26, can only exacerbate what is, at the moment, a system in crisis.
This brings us to the next set of concerns, namely, the effect on children and young people who face arrest and detention for exercising their right to protest. Perhaps more concerning is the long-term effects on the future life chances of young people if they are criminalised.
The Criminalisation of Protest
At this point we do not yet know how the police will react to the inevitable protests that will take place at various locations around Glasgow. However, early indications, expressed through police interactions with a number of service providers, suggests an approach that seeks to criminalise certain forms of protest.
The Law Society of Scotland have issued a statement calling for widespread recognition of the right for children's voices to be heard in relation to COP26. Tensions exist between the Scottish Government's commitments to UNCRC (United Nations Convention of the Rights of the Child) and any potential violation of children's rights by the police, following the criminalisation agenda set by Westminster.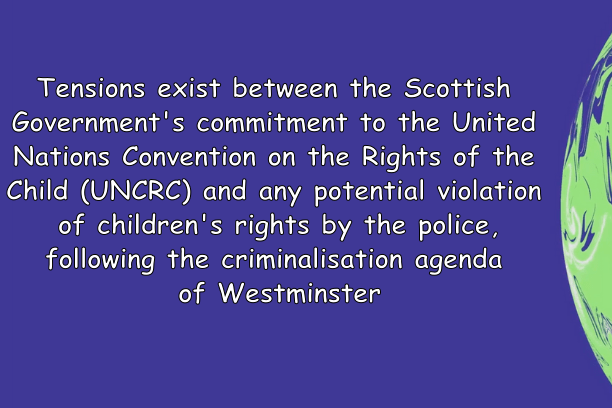 Taking to Twitter, the Scottish Children's Commissioner, Bruce Adamson, sounded a note of caution that we "must stand up for children's rights & create an environment that supports peaceful protest, promoting & facilitating children's meaningful participation in finding long-lasting solutions".
We at Erasmus Research, will be closely observing events as they unfold in around Glasgow during COP26. What this event has shown is that the state has chosen to prioritise the policing of an event over the protection and wellbeing of children. This is a deliberate policy decision to shift police and other services from welfare and protection, to the criminalisation of protest, involving children and young people. Children in Scotland face a potential dereliction of duty tantamount to criminal negligence by the state, while the UK's biggest ever police deployment undermines the fundamental rights of the child under UNCRC.